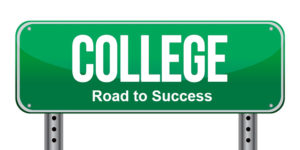 CAMINO A COLLEGE 2021-2022
"Camino a College" is a smart-phone based program for low-income parents, most of whom do not have a college education, and it is hard for them to help their children get to and through college. It allows parents to understand that college education is an investment and that their children need to finish high school college-ready to avoid remedial courses that waste time and money. It is available in Spanish, English, and Vietnamese, and is a free for parents.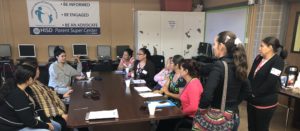 Group collaboration at Sam Houston HS
Parents are more likely to attend the whole course 4-hour course as long as classes are available during the same week. As group learning is an essential part of Camino a College, we have included more time for in-group discussions during class. Every parent who signs in receives a Parents' Manual that provides simple instructions and includes links to information about FAFSA, SAT, and Workforce Careers.
We now invite school counselors to become facilitators to offer Road to College at their schools after hours.
For more information go to Facilitators.
 
Our Learning Process
Teamwork is the backbone of the process as it allows parents to discuss topics and, as a group, arrive at feasible conclusions. It is difficult, for those who did not go to college, to learn the American school system with all its ramifications. But when it is explained in class and later discussed within their families, friends and team mates, parents learn and, more importantly, they know they can help their kids on their road to college. Click on image to enlarge.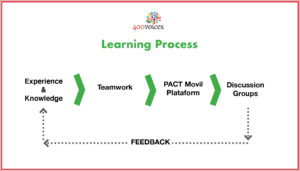 Outcomes
• Parents learn about the advantages of post-secondary education as an investment, opening up opportunities for the whole family.
• Learning about the steps to go to college.
• Being better prepared and ready to help their kids.
• Experiencing teamwork, empathy, and collaboration.
• Collaborate and interacting with other parents.
• Encouraging closer communication between parents and teachers.
There's plenty of evidence that shows that close communication between parents and teachers helps improve academic performance of their children. We train middle and high school' teachers and counselors to teach our course to parents in four one-hour classes during one week. Interaction between parents with teachers reinforces parent engagement and creates trusts that benefits the children. 
400 Voices® and PACT Movil® are registered marks of 400 Voices, Inc.