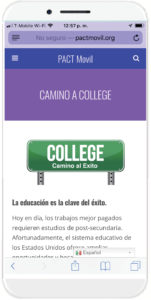 PACT MOVIL©
It is a free, user-friendly learning platform that provides educational material in Spanish, with instant translation into English and other languages
We offer over 50 topics such as Camino a College(Road to College), citizenship, health, personal finance, obesity, how to use the smartphone calculator, and even a short course on photography. We encourage parents' development and economic advancement. We also motivate mothers to enroll in certificate courses that allow them to become breadwinners for their families.
ROAD TO COLLEGE
Parents learn that education is an investment that opens the door to a better life, and that a high school diploma is just a step on the road to college. Almost all parents who take the course have never seen this chart showing the aggregate value of education. The amounts on the green rectangles are the aggregate values resulting from additional education, while the quantities on the top are the average annual income.
400 Voices® and PACT Movil® are registered marks of 400 Voices, Inc.