There is no equity in the education of Hispanics.


Equity happens when all children, no matter their ethnicity or income level, have an equal chance for a college education. Read more.

Obstacles for Hispanic children applying for college.




The main obstacle is that many low-income parents did not go to college and do not have a clear idea of what college-readiness involves.

Involve the parents. 


We need Hispanic parents, particularly their mothers, to learn how the system works and how they can become change agents for their children. Schools must provide courses specifically targeted to parents.

Wh

at needs to be done.




We need to create a cultural shift. 

"Without sustained and determined intervention to improve the quality of the public schools and family support systems within the low-income Hispanic community, the United States will be unable to develop the educated workforce that the new economy requires." 

Dr. Stephen Klineberg, Founder Director of the Kinder Institute for Urban Research at Rice University in Houston.

The Hispanic population is crucial to America.




By mid-century, the Hispanic population will be as large as the White population. According to the 

U.S. Census

, from 2000 to 2010, the White population grew 1.2% while the Hispanic population grew 43%. This shows a significant difference between a population with high growth and one that cannot replenish itself. Read more about this issue in our Publications section.

The role of school districts 


School districts and schools with majority Hispanic populations should train mothers, the most important factor in the education of their children, about the Road to College. This should begin in the 9

th

grade and must be done is Spanish.

The role of families


Families should create discussion groups in their neighborhoods where children and parents can interchange ideas, solve problems, and help each other to get their children to college. These groups should ask the schools to make available the Road to College course.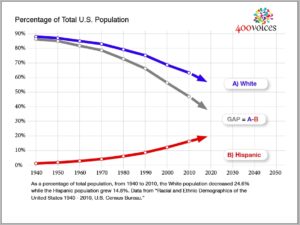 400 Voices® and PACT Movil® are registered marks of 400 Voices, Inc.